MBA Newsflash, December 20, 2004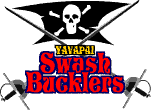 WALLY SZCZERBIAK BACK IN YAVAPAI
Free agent guard/forward
Wally Szczerbiak
has been signed by Yavapai Swashbucklers for at least four weeks of fantasy hoops.
Szczerbiak was released by the Swashbucklers this offseason after five seasons with the team since being drafted fifth overall in the 1999 MBA Fantasy Draft.
His fantasy career stats are 47 games with a 17.79 fppg average unmodified.